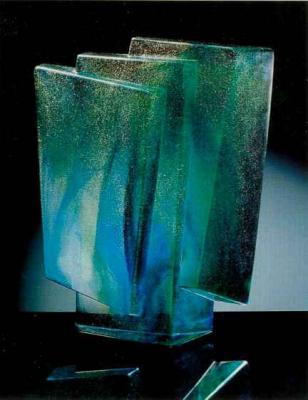 Melted and moulded in lost wax - polished on the sides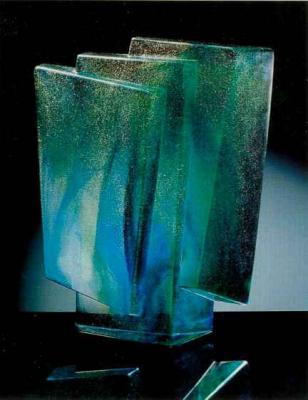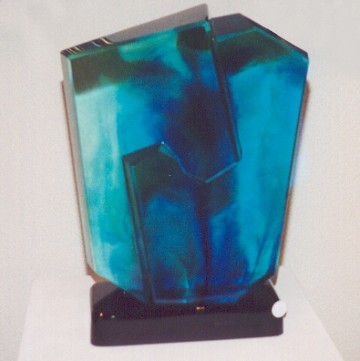 The artist
Eric Shamschula was born in Tchecoslovokia in 1925, he is from a family of musicians. He spent most of his life in France, namely in Normandy. He died in 2004.
Was Eric Schamschula an artist ?
He probably was, under the sign of the fair creation, he was since that first day of his birth set in the cradle of Merlin the Enchanter's. He immediately set to shout and his sounds turned into music. All kinds of artists, musicians, partners, sculptors, poets, glassblowers have more or less rocked his cradle. The strong small guy who would leave that cradle inherited different talents from each of them in a word Eric Schamschula, had the soul of an artist.
While he was a designer of models at Riesdel glass factory in Vienna. In the 1970's and the 1980's. Schamschula developed a technique which he kept secret to prepare molten glass. In that very period he dealt with monumental works.
Technique
Molten glass making is a difficult technique to handle. It requires a full command of the matter, colouring, and temperatures which implies an alchemy of combinations.
The number of obstacles he had to overcome were impressive : the slightest draught could result into a hurricane and where the painstaking creation, well performed could explode at the removal from the mould thus destroying in one second , years of accumulated knowhow. Yet, Eric Schamschula never felt discouraged and until the end of his life, he controlled with a total supremacy several methods which he led to perfection.
His efforts resulted a works of an extreme beauty and impaired colouring .His last achievements consist in rather geometric figures, polished, and composed of a combination of transparent crystal and molten glass which had been oxide-coloured.
Exhibitions
The works of Schamschula are in the collections of decorative arts in Paris. At the glass museum in Sars-Poteries. At Rosenthal's (chez Rosenthal) in self Germany, and many private collections. He arranged exhibitions in Paris, Lillebonne, Strasbourg, Nantes, Toulon, Antibes, as well as in Switzerland, in Germany, in Austria and in Japan.
{backbutton}