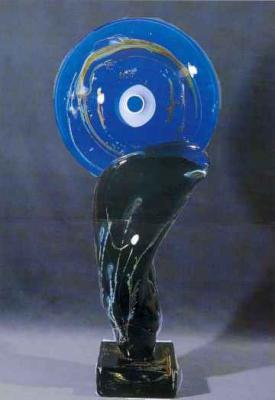 Sculpture blown glass crystal in depth with enamel and oxide inclusions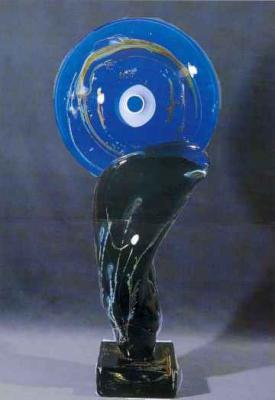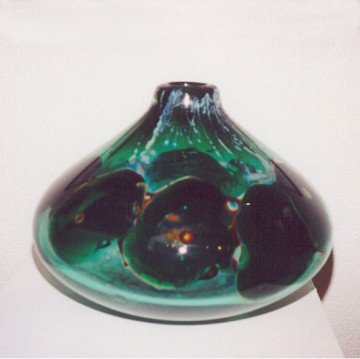 Presentation
Samourai of Crystal ! such was louis leloup nicknamed by the ardent supporters of his work : the Japanese.
The comparison, even if it is not made in Europe, would not be useless. Opening bravely and incomparable strength the ostuggle, the artist glassblower, appreciates his being compared to brave Japanese westlers. However far away from Japan, Louis Leloup is an artist glassblower whose perfect mastery of art made him a magician.
Biography
Louis leloup was born in Searing in 1929. Very young, he got interested in art in general, including music, singing, plastic arts and glass carving. He had dreamt of becoming an opera singer for a long time. He became a catcher of light.
Like a captive soul, it is poetry that is emprisoned in Louis Leloup's pieces. He expressed his verses through glass.
He started his career when he was 18 in the workshops of the Cristalleries du Val st lambert, which got closed and opened again. He would stay there from his schoolbackground as a student to become an expert as a master glazier and then an artist.
More than twenty years of glass blowing, inventions, creations, innovations. He tried all the aspects of glass carving from household glassware or decorative articles to monumental works !
A world citizen
Through out the years, his facilities evoluted. He possessed big furnaces to bake again monumental pieces and his blow piping …was easy to recognize at first sight, his sculptures were successful. Exhibitions followed one another and museums in the whole world got interested in his works.
As a Citizen of the world, he was appreciated by supporters from various continents. Very discreet, he always stands aside of his exhibit, he seemed as if were there more to present his work than to comment on it. Thoughtful, cautious, LeLoup is loquacious without being distant. Planetary artist, he contemplates his success with a favourable consideration without feeling any self-conceit.
Curiously enough, the beginning of his glory is closely linked to Switzerland. Actually, it is at Museum of Bellerive in Zurich where his glory got a start . In 1972 he was invited to exhibit some of his best creations.
Immediately after, he got invited by la Galerie de l'Ecuyer (gallery of the Ecuyer) in Brussels, there he was to exhibit altogether with great glass blowers like Samuel Herman, Harvey Littleton, Ervin Eisch after that he was invited to Germany, then Italy, Luxembourg, France, Tokyo, Miami (Florida), Prague.
Collective or individual exhibitions, galleries, museums artistic spaces, the list of exhibitions is endless
For his 60th birthday in 1990, Louis Leloup accepted an invitation from the Fine Arts Museum of Taipei in Taiwan. That exhibition had an unprecedented success forty thousand visitors attended and the Museum acquired 16 pieces at once. That was really incredible !
To pay homage to his art the Japanese opened a museum in Kyoto and they named it Louis Leloup.
{backbutton}